Supervet offers Pedigree Adult Dog Food – Vegetarian 1.2 KG and 3 KG Pack
Your pet gets protein from the soybean and vegetable oils while the vitamins from vegetables (including Vitamin E) boost your pooch's immune system. Balanced calcium and phosphorous ratio contribute to strong bones and joints.
Food Type: Dry food for dogs
Suitable for adult dogs of all breeds
100% Vegetarian
Consult a vet before altering your pet's diet
Always have fresh water available for your pet
Never exceed recommended feeding quantities unless prescribed by the vet
: A vegetarian diet is most often prescribed to dogs with very sensitive tummies (that are allergic to meat proteins). However, variety is important for all dogs so, once your pet's tummy settles down, you should speak to a vet about including some form of other protein to your pet's food.
Feeding Guide
Feeding requirements will vary based on your pet's level of activity, environment, and age.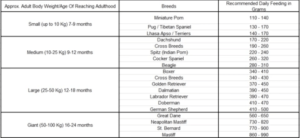 For more queries about Pedigree Adult Dog Food, you can contact us on WhatsApp.
You can also visit our store on Amazon.