Supervet offers Pedigree Adult Dry Dog Food
Vitamin E boosts your dog's immune system while a balanced calcium-phosphorous ratio strengthens their bones and joints. Omega 6 and zinc help your dog look his (or her) very best with healthy skin and a shiny coat. Fibrous veggies help improve your pet's digestion.
Food Type: Dry food for dogs
Suitable for adult dogs of all breeds
Chicken and vegetables
Easily digested
Consult a vet before altering your pet's diet
Always have fresh water available for your pet
Never exceed recommended feeding quantities unless prescribed by a vet
HUFT Tip: Changes in the weather often influence your pet's appetite. Pet parents have noticed their pets tend to eat less in the summer than in the winter. This also depends on the type of food you give them – warm meals may not be as inviting on hot summer afternoons. See if you can spot these changes in your pet's appetite and alter his/her diet accordingly. If your pet is rejecting meals altogether, consult a vet immediately.
Feeding Guide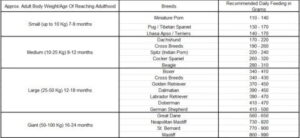 For more queries about Pedigree Adult Dry Dog Food, you can contact us on WhatsApp.
You can also visit our store on Amazon.